Annabelles is proud to offer
Our in-house designer, Stephanie Richardson, is here to help you every step the way in putting together your perfect bedroom, bathroom or home accents. Whether you are starting with a bank slate or just wanting a refresh she will guide you through our wide selection of fabrics, styles and decor offerings. You can take home swatches, ideas and lots of inspiration! All complimentary of course!
Interior Designers have been an essential part of Annabelles since opening in 1992. Our trade benefits program includes discounts on most items, special orders placed through our vendors, product recommendations and more. Come in to complete our application and submit your tax form and designer credentials.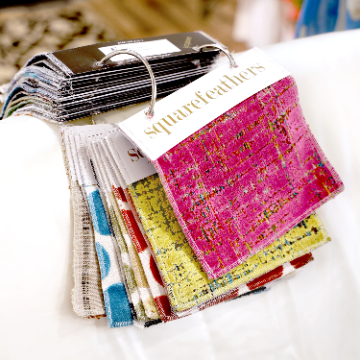 Gift Cards Available
Not sure what that special someone would want from Annabelles? Everyone loves a gift card from us! It never expires and best of all we will gift wrap it to perfection!
Monograms
Embroidered monograms are the ultimate in fine styling. Let us help you choose the perfect monogram that reflects your personality or enhancement of that special gift. We have many many font styles and thread colors for you to find that perfect personalization!
Complimentary Gift Wrapping
Known for our legendary gift wrapping, Annabelles customers love giving a gift within a gift. No matter what the special occasion we have the perfect wrapping papers and ribbons that make everyone smile. Its gift giving made easy and beautiful!
We Are Open!
Come visit us at Hawthorne Plaza
Monday – Friday: 10:00 – 5:30
Saturday: 10:00 – 5:00
SIGN UP FOR OUR PROMOTIONAL EMAILS.