At Annabelles, we know the secret to creating an inviting, luxurious, and beautiful bed! It all begins with layering complementary tones, textures, and patterns then finishing it all with the best sheeting the world has to offer!
Annabelles offers top of the bed designs to meet every décor style. Our designers will help you choose that perfect look and feel for your lifestyle and design needs. Choose from traditional to modern, washable silks to wood fiber fabrics, and the finishing touches of decorative pillows and cozy soft throws. We love guiding our customers to achieve the bed of their dreams!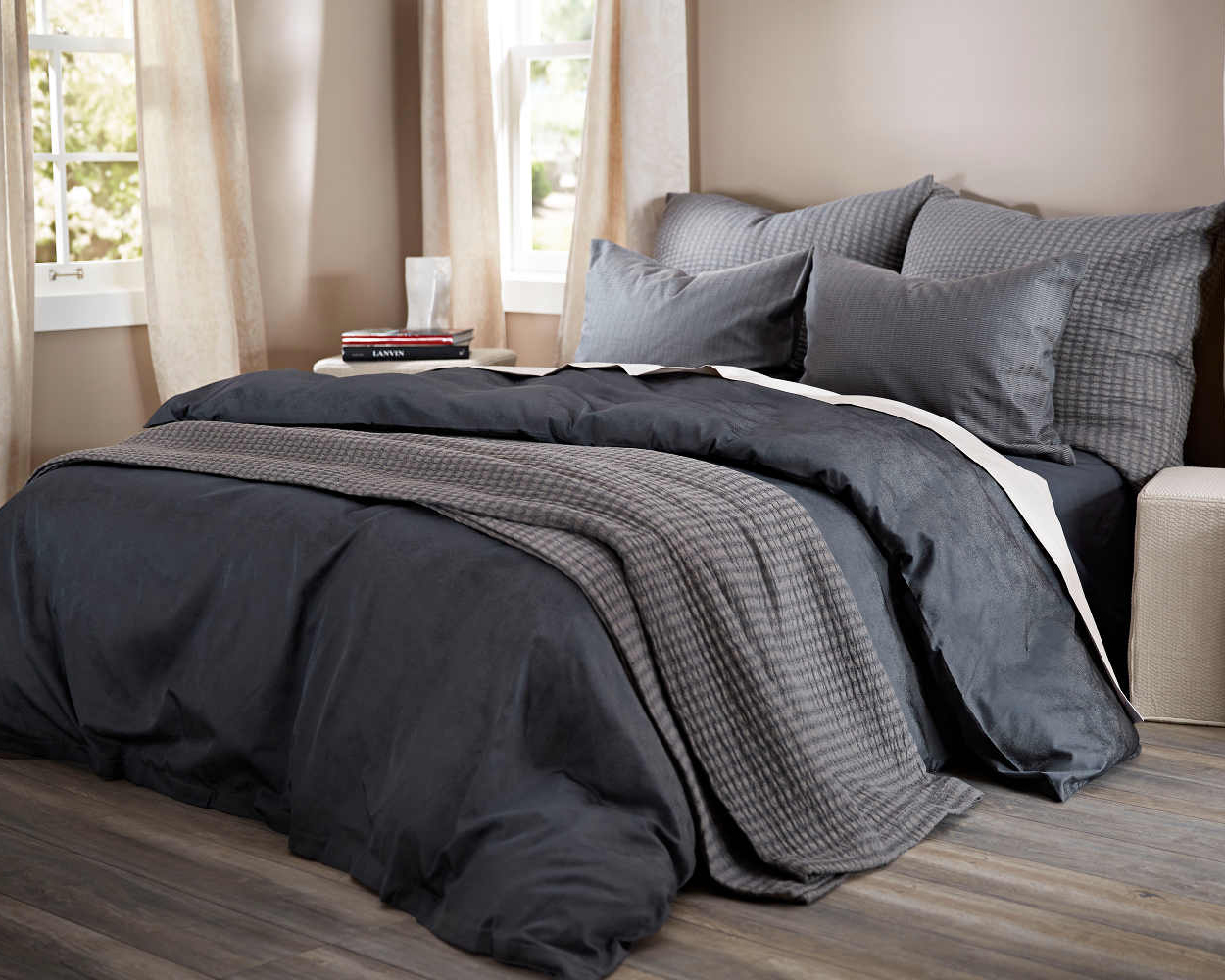 • Duvet Covers
• Flat & Fitted Sheets
• Sheet Sets
• Pillow Cases & Shams
• Coverlets & Blankets
• Bed Skirts
• Throw Blankets
• Decorative Pillows
Sferra Bedding
Since 1891, Sferra has shown the divine is in the details. For linen connoisseurs, there is no
parallel for Italian-woven fabrics. Theirs is a rich history of small, family-owned textile mills in
the North of Italy, where SFERRA linens are still crafted today, continuing a heritage of
unsurpassed workmanship and artistry.
Yves Delorme
Family-owned since 1845, Yves Delorme is particularly recognized for fashion prints, based on
original artwork and heritage to haute couture, as well as for its timeless classics. Their passion of 
providing the finest bed linens, pillowcases, and duvet cover has been passed on
from generation to generation.
SDH Bedding
SDH Fine European Linens is recognized worldwide in creating environmentally conscious
luxury linens. From their superior textiles and innovative designs to old-world craftsmanship and
attention to detail, SDH has an unwavering commitment to providing timeless style, impeccable
quality, and lasting comfort.
Matouk
For nearly 100 years, Matouk has handcrafted luxury linens from the world's finest materials.
Their factory in Fall River, Massachusetts is home to the Matouk collection of beautiful and
classic sheets, no-iron washable fabrics, pique coverlets, subtly embroidered duvet covers, and
shams. Matouk creates beautiful and timeless collections of bed and bath linens.
Peacock Alley
Peacock Alley has a long tradition of making luxurious bedding and bath linens that are simple,
beautiful, and impeccably crafted. Their spirited-yet-traditional approach to design allows them
to create simple, beautiful bedding and bath linens that will look great now and for years to
come. Always committed to quality so no need to wait for special occasions. Their products are
crafted to be used and enjoyed every day.
Bella Notte
Artistic and inspiring, Bella Notte 's heirloom-quality bedding is the expression of your elegant
and bohemian soul! Offering the softest fabrics in luscious tones, every Bella Notte product is
one-of-a-kind dyed to order with their harmonious, hand-mixed color palette. All their couture
textiles are washable and made in the San Francisco bay area.
Pine Cone Hill/Annie Selke
Pine Cone Hill's fresh, fun home textiles have been making waves in the home design industry
since 1994. Whether you're building a beautiful boudoir or a rustic retreat, Pine Cone Hill has
everything you need in top quality fabrics and imaginative designs.
Ann Gish
Ann Gish is luxury bedding created for the senses- the feel, color, texture, shape and scale, and
even the sound fabric makes as it is moved or touched! Ann Gish designs offer practical
elegance, exquisite detailing, and construction using luxurious fabrics.
FINO LINO
FINO LINO offers the most extensive collection of custom linens and fabrics available. Their
design workroom is capable of constructing the most challenging of designs, from supple silk
charmeuse duvets and silky smooth cotton sheeting to crisp linen tablecloths and runners. They
are a definitive brand in luxury linens and home textiles.
Lilli Alexandra
Lilli Alexandra offers a broad range of luxurious velvets, linens, and silks as base fabrics used in
each collection. Their passion for texture brings a unique mix of fabrics and colors that are
defined with an array of embroidered techniques. The result is an aesthetic feel that ranges from
"old world baroque" to "neoclassical elegance" to "modern naturalistic". The options are endless
and very exciting!
Brahms Mount
Truly heirloom quality, Brahms Mount crafts premium cotton, linen, and wool blankets and
throws on antique shuttle looms. They weave textiles with a signature American look and a soft,
luxurious hand. Classically beautiful, wonderfully comfortable and grounded in the authentic
character and centuries-old textile tradition of Maine, their products have been capturing hearts
since 1983.